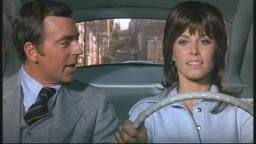 Nicole Harris
was a lovely young woman who was a stewardess for
Global Airlines
, and was living in an apartment building adjecent to
Mrs. Steinmetz
's firehouse. She lived with Mrs. Steinmetz, if only after ruthless land developer
Alonzo Hawk
demolished the beloved apartment building where she lived. From that time on, Nicole carried a certain vitriol toward even the mention of the name "Hawk". Upon meeting Mr. Hawk's nephew,
Willoughby Whitfield
, she gave him a solid punch to the jaw, as she considered him one of Hawk's henchmen. To try to atone for having done so, she invited Willoughby to go for a ride in
Herbie
. At the end of "Herbie Rides Again" she ended up marrying Willoughby Whitfield, in a small ceremony at Station 23, (aka the Stienmetz firehouse).
While at lunch at Fisherman's Wharf, Nicole told Willoughby of the dirty doings of Alonzo Hawk, when Willoughby told her that Hawk was his uncle. And she responded to this by smacking the "rotten spy" (as she called him) with a boiled lobster.
Nicole Harris was played by actress Stefanie Powers
Ad blocker interference detected!
Wikia is a free-to-use site that makes money from advertising. We have a modified experience for viewers using ad blockers

Wikia is not accessible if you've made further modifications. Remove the custom ad blocker rule(s) and the page will load as expected.