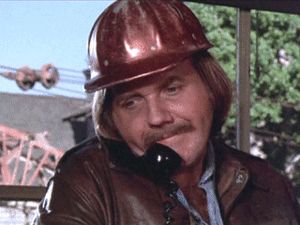 Fred Loostgarten was a former employee of Alonzo Hawk's, who had his own independent demolition company. He was known for wearing a red hard hat. It was Mr. Hawk who gave him the assignment of tearing down Mrs. Steinmetz' firehouse to make way for the 130-story skyscraper Hawk Plaza. To protect Mrs. Steinmetz and the firehouse, Hawk's nephew, Willoughby Whitfield, paid a call to Loostgarten. In an imitation of his Uncle Alonzo's voice, Willoughby tricked him into razing Mr. Hawk's house (located at 343 Oleander Heights), using a wrecking ball. An outraged Alonzo Hawk then chased Loostgarten into the city streets, metal pipe in hand.

Loostgarten was played by veteran actor Chuck McCann.
Ad blocker interference detected!
Wikia is a free-to-use site that makes money from advertising. We have a modified experience for viewers using ad blockers

Wikia is not accessible if you've made further modifications. Remove the custom ad blocker rule(s) and the page will load as expected.